Good Evening, Currently there have been a total of three cases of COVID identified at the wrestle/cheer tournament. The students are isolated away from the main group with an adult. The decision has been made to cancel the remainder of the wrestling/cheerleading tournament. There will be no further activities taking place at the Unalakleet School this weekend. We are working to schedule travel for students, coaches, and visiting parents to return home tomorrow. We will send out the information as soon as it's finalized, and it will be posted on Google Calendar. We thank you for your understanding and patience. If you have any questions please don't hesitate to call me at (907) 625-1590. Respectfully, Kris Busk
We will be on our early out schedule on 11/19/21.
We will be having parent/teacher conferences this Friday (11/19) from 1:00-5:00pm. We are looking forward to seeing you all then! We will be on our early our schedule.
Just a reminder that tomorrow is a regular school day. Those who attended the Wrestling/Cheerleading competition will need to get their ten day COVID test on Monday and follow up with another test on Friday ( Day 10)in accordance with the City Emergency Public Health Mandate. You may attend school pending the test results for the last two tests, but be alert for any COVID symptoms. Looking forward to returning to a Green Status! See you all tomorrow. :)
Meals are now ready to be picked up by by those families who are not in quarantine. We will be delivering meals to those who are quarantined, Meals will be served daily from 11:00 to 12:30.
Today the City Council issued an Emergency Order recommended that there be a city-wide lockdown and that there be no mass gatherings, including at our school. This lockdown is to stay in effect from today through November 21st. This means that there will be no school, and at this time, no meals served until the lockdown is lifted. It was felt that because of the time it takes for the virus to show itself, it would be best to protect not only the students and staff, but the community as a whole by locking down the city. Even quarantining just the students and the households of those who attended the sporting event would leave us without enough staff to keep the school open. If anything changes, we will keep you informed as it happens. We will have to make up the ten days lost because of this situation. Thanks.. Jim

Good Afternoon, This afternoon a student tested positive for COVID-19 at the wrestling/cheerleading tournament. The student has been removed from the school building and is currently isolating with family outside of the school. All teams are currently quarantining and separated from group contact until the results of NSHC testing efforts come back. Social tracing is currently being conducted. The following message was sent by the Unalakleet School administration a few moments ago: "Due to a positive case being identified, the elementary/wrestling cheerleading tournament is currently postponed until tomorrow. All teams will remain in their room. No spectators or visitors will be allowed to enter the school. The situation will be reevaluated tomorrow morning." If the tournament ends up being cancelled, all athletes and coaches returning to the village will be asked to quarantine until the results of a COVID test that is taken at site are returning. If you have any questions, please feel free to contact me on my cell phone at (907) 625-1590. Thank you for your understanding. Kris Busk
It looks like the photographer will be here early enough tomorrow to do school pictures before doing the community pictures from 5-7pm. She will be leaving on Tuesday morning.
Good news! We will be back to our regular school schedule starting tomorrow(Green level)! We are looking forward to seeing all of our students in the morning. The school photographer will be here tomorrow. She will be taking community pictures in the afternoon and school pictures on Tuesday. I will post specific times tomorrow. :)
Because of the continuing rise in number of Coronavirus cases in our village, the school will continue with distance learning until October 18th. We will continue to have meals ready to be picked up at the school at the same usual time. Meals will be delivered to those students who are on quarantine. Those who have tested positive for the virus or are living in a household that has the virus need to stay out of public places. This virus is very contagious and until it is deemed safe for normal school activities to resume we will continue to provide distance learning. We all want our students returning to school as soon as possible.
Starting today, student meals may picked up between 11:30am and 1:00pm. We will deliver student meals to those who are being quarantined as well.
Because of the rising number of Coronavirus cases in the village, along with a high number of close contacts to those who are infected, we are closing the school for at least the rest of this week. As we understand it, a nurse is coming here to test everyone in the village. We will be providing learning packets as soon as Wednesday. Meals may be picked up at the cafeteria outside windows between 11:30 and 1:00pm daily beginning tomorrow. We encourage everyone to limit personal contacts outside of your immediate family and to mask up and practice social distancing when in public areas. More information will be coming your way in the morning. Jim

COVID-19 requirements will continue to be practiced during the Friday Fun Day activities. Just a reminder that the current COVID-19 protocols are to be in effect until at least September 17th.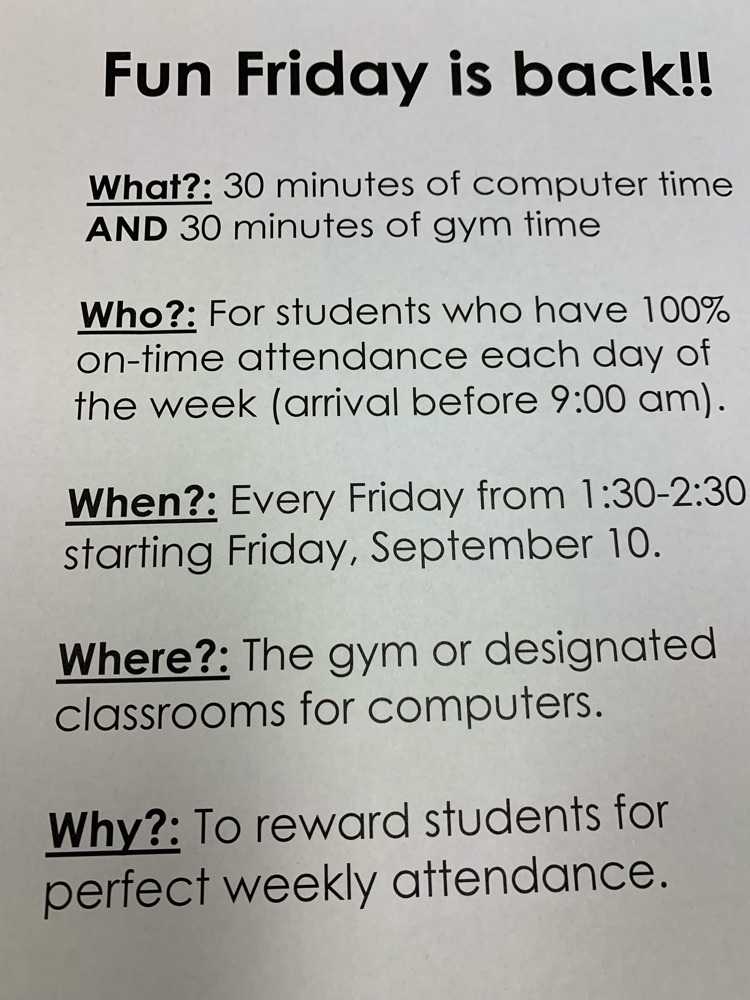 Good evening everyone. I just wanted to remind you that there will not be any school on Friday, as we have a school in service day scheduled, nor on Monday, which is Labor Day. We will resume our normal schedule on Tuesday, September 7th. Tomorrow is a regular school day. Enjoy the long weekend. Jim

The school will be dismissed at 12:30 tomorrow (8/26)to enable those who want to attend the funeral service for Dale Adams.
We are looking forward to our first school day the 2021-2022 School year tomorrow morning. Breakfast will be from 8:05-8:55. Temperatures will be taken upon entry to the building and all students and staff will be required to wear masks for the first two weeks of school. K-5th grade will eat lunch in their classroom. Grades 6-12 will be eating in the cafeteria. This arrangement will pretty much separate those 11 years old and under from the 12 and older who are likely to have been vaccinated. ( There is no vaccination available for those under 12 at this time). There will be no open gym at this time. We are looking forward to seeing all of our students tomorrow!!
I don't know if this message went out a moment ago, as AI did not have an Interntet connection and nothing showed up as being sent. Sooo, here goes. Monday will be the first day of work for all staff. It is building inservice day and is your opportunity to start preparing for the upcoming school year. It is also a good time for those of your who have not finished your Safe Schools coursed, to do so. We will have a staff meeting at 2:30 and go over the upcoming week and other items of importance. For the first two weeks of school, all students and staff will be required to wear masks whenever in the school building. Just a heads up. Please pass the word about our staff start work day to others who may not have access to the this communications. Looking forward to seeing you all on Monday! :)